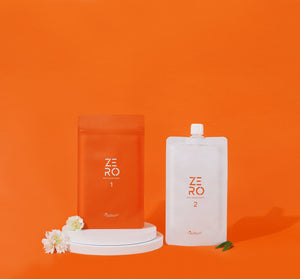 NON-DAMAGE HAIR BLEACH, 99% REDUCTION IN HAIR DAMAGE WHEN BLEACHING.
For virgin hair and grown out roots on bleached hair.
It bleaches up to level 10 without any damage with just one bleaching.
Now, enjoy bleaching without worrying about damaging your hair.
Please use it as a set.
Do not mix it with other products.
If you want to level 10 bleach, please leave it on for 2 hours.
The mixing ratio of the powder and #2 is 1:1.5.
COMMON SENSE ABOUT HAIR BLEACH AGENTS.
All hair bleach, including Zero Blond, currently sold in markets around the world can irritate the scalp if applied directly to the scalp. 
As a result, applying hair bleach directly to the scalp is not recommended.
When applying bleach close to the scalp instead of directly, the nature of hair bleach causes it to swell up and permeate to the hair close to the scalp, which helps to achieve a full head bleach.
If you have unique hair that can not be bleached with commonly sold bleaching agents and colors. Please test one section of your hair in advance to decied whether or not you can use it.